Gilbert Grace - Visions
Arts reporter Chris caught up with painter Gilbert Grace at the opening of his solo show at Art Est in Leichhardt. The show was part of his prize for winning the inaugural Green Way Art Prize and runs until April 27 at Art Est, Studio 4, 67 - 69 Lords Road, Leichhardt.
More info about Gilbert's show and Art Est here.



Warren Armstrong - (UN)seen Sculptures
Ange spoke to Warren Armstrong, curator of (Un)seen Sculptures, a mobile 3D augmented reality art show that will be staged in locations in Surry Hills as part of the Surry Hills Festival on Saturday, April 9.

Find out more about the hidden virtual digital works and how to get the app so that you can see them on you iPhone, Android or Nokia smartphone by clicking here.

Radio 2SER will have a stall at the festival. This year it's at Shannon Reserve and Ward Park.

The festival site is here.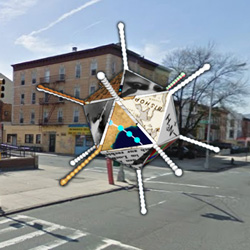 Richard Hull - Sydney Fringe Festival
The new director of the Sydney Fringe Festival came into the studio to chat about what we can expect from this year's festival and the opportunities for artists.

Find out more about the 2011 Fringe Festival here.
Smart ARTS Festival
Smart ARTS is a youth arts and cultural festival and Christie Torrington, the creative director came in tell us all about it.
Christie brought along Victoria Waghorn from Punk Monk Propaganda and Gerard Anthony from the Divine Knights to tell us what they'll be doing as part of the festival. Punk Monk Propaganda will be running some interactive animations and project bombing - sounds very intriguing! Divine Knights are a pop-synth duo who will be performing at the closing night party with big costumes. Check out their MySpace page for pics!
Smart ARTS runs until April 15. Find out all about it
here
!
Check out Punk Monk Propaganda here and the Divine Knights here.
Housemates
Ange phoned Penny Rowland from the Sydney Opera House to find about Housemates - a huge photo wall in font of one the world's most iconic buildings! Get involved
here
.
What's on and artist opportunities
Design Needs Less Mercenaries and More Guerrillas
Exploring the relationship between social responsibility and business success, a group of UTS design students have playfully subverted advertising messages in an exhibition of poster prints. Design Needs Less Mercenaries and More Guerrillas calls for designers to show greater awareness and responsibility in understanding the organisations they work for and the messages they create.
The exhibition opens on Thursday 7 April at 6PM at Fraser Studios, 10-14 Kensington St, Chippendale and continues daily until Sunday 14 November, 11am-5pm.
Art and About
is calling submissions! Find out more
here
.
Galleryeight in Millers Point is presenting Fabrication, an exhibition of twelve artists from multidisciplinary practices, each exploring their perception of reality and what is real in our world. Australian culture is rife with deceptions and hoaxes, ranging from the Ern Malley afair to William Blundell's "innuendos". To coincide with April fools day Galleryeight invited artists to submit their response to the notion of 'The Hoax' or the idea of creative "frabrication". It runs until April 21. More info here.
Today's play list
Dennis Coffee "Don't knock my love" from

Dennis Coffee

(2011 Strut)
The Liberators "Self Reliance" from

The Liberators

(2011 Record Kicks)
Electric Empire "Life Again" from

Electric Empire

(2010 independent release)
The Black Jesus Experience "Arada" from

Yeluinta

(2010 MGM)
The Divine Knights "Young Boy" from

Divine Knights

(2011 independent release)